Investing in innovation is becoming increasingly important to investors—and the industry is catching on. Having launched our first innovation strategy in 2018, Beagle Leading Innovators, Evolutionary Tree is a recognized and respected manager in this important new investing category. Thomas Ricketts, the firm's CIO and Portfolio Manager, recently spoke about Evolutionary Tree's process of identifying true innovators—what he refers to as the makers, not the fakers. An adapted excerpt of his conversation follows.
Mr. Ricketts: The investment management industry is beginning to understand the importance of innovation. As a result, mutual funds and other ETF marketing firms are launching new innovation-type investment products. However, the vast majority of these products are, in my opinion, just baskets of companies that relate to a theme, which is a low-quality way to build an innovation strategy.
It's important for investors to look beneath the hood of an innovation fund and ask: What research went into picking these businesses? How does the investment manager determine weights for individual portfolio holdings? Does the manager have a valuation discipline? What you might see if you take a closer look is a grab bag of holdings that includes a combination of low-quality companies and high quality companies, and often a lot of hype.
In my opinion, a lot of investment vehicles that have been developed around innovation are built around a marketing theme. They're not research-led. It's very different from what we do at Evolutionary Tree. We build risk-managed innovation portfolios that focus solely on quality innovators. We identify these quality innovators through in-depth research and the application of our eight investment criteria, which help us separate out the hype and focus on the true quality innovators. Many innovations are niche products or are too early in their development, and are not yet ready to go mainstream. They're concepts. At Evolutionary Tree, we don't invest in concepts. We invest in real innovators—the makers, not the fakers—and we identify them through detailed research. We go to industry conferences, survey users of the innovations, and connect with company management teams with the goal of getting into the ecosystem and building conviction that the innovations are important and that they are on the cusp of going mainstream. We seek to own a concentrated and focused portfolio of only the leading innovators supported by deep research.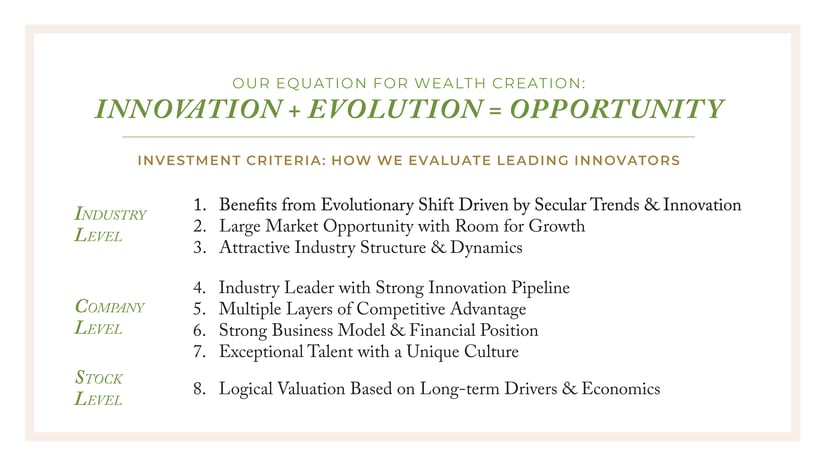 Carving out an innovation allocation is important for all investors, just be careful how you do it.


Interested in learning more about Evolutionary Tree's innovation-focused investment approach? Mr. Ricketts provided insight into the firm's investment process, current market dynamics and other topics during Boutique Week™, a virtual event hosted by Havener Capital that included candid conversations with boutique investment managers. Click on the graphic below to gain access to the full conversation.