Here at Evolutionary Tree Capital Management, innovation-focused investing is what we do. We also believe the best partnerships are built upon strong relationships between people. This is why we have penned a "Meet the Team" blog series which is designed to help you to get to know us better. Here is a quick and fun Q&A to get to know Dan Ayre better.
B
ehi
nd the Portfolio: Dan Ayre, Associate Research Analyst

What makes the culture at Evolutionary Tree so special? I'll never forget my first day as a full-time employee at Evolutionary Tree. The whole team sat in the conference room for hours discussing one thing: culture. Maintaining a positive and collaborative culture is core to everything that we do at Evolutionary Tree and it is woven into all our processes. For example, when it comes to research, we engage in a highly collaborative, open process. All members of the team are encouraged to persistently explore, stay open-minded and challenge each other. Anyone can have an impact and meaningfully contribute. I know with confidence that any ideas or insights I have will be met with open ears and open minds. That's special if you ask me.
What's your favorite thing about working at Evolutionary Tree? The opportunity for broad learning. Being part of a small team with such a special culture has allowed me so much opportunity to learn and gain exposure to new fields that I likely would not get anywhere else. Over the past few years, I've had the opportunity to travel with Tom to Europe (Denmark, Netherlands, Germany, Austria, and Italy) to meet with and participate in meetings with management teams, help conduct calls with industry experts, explore new technologies at multiple industry conferences, participate in portfolio management discussions, and even get value-added investments into our strategies. Getting exposure to these types of opportunities early in my career has been crucial to my development as an analyst and has helped me move up more learning curves than I might be able to if I had a fixed and narrowly defined role at a larger firm. Most importantly, while these opportunities also represent challenges, they are what have made my experience at Evolutionary Tree so much fun and rewarding.
What does a typical workday or week look like for you? It's tough to put my finger on a "typical" day because every day is different, which, to me, is a perk of the job. As a generalist, a workday may include attending virtual sessions at the American Society of Gene and Cell Therapy conference, participating on an expert call on the digital advertising space, switching over to some payments survey data analysis and capping the day off with building a financial model. The next day could involve follow-up work from the previous day and a new set of research projects to work on.
However, at a high level, our days and weeks are focused on deepening our knowledge and generating new insights on existing holdings and identifying new leading innovators and evolutionary shifts and secular trends. The one constant is that, throughout this research process, I am constantly interacting with the rest of the research team, sharing insights, having team discussions, and prioritizing research projects. In a given week, we are able to cover a lot of ground as a result of our collaborative process.
What is your favorite quote that relates to Innovation Investing? That would be the following from Henry Ford:
"If I had asked people what they wanted, they would have said faster horses."

I think this quote shows how innovative thinking can drive a true shift in how people do things. Without it, we stay stagnant and can only incrementally improve upon what we already know. Mr. Ford's innovative thinking led to a true paradigm shift in how people traveled.
Do you have a favorite book or podcast? The Innovator's Dilemma by Clayton Christensen is one of my favorite books. It highlights the dilemma that businesses face between addressing the current needs of their clientele and investing to adapt to where the world is evolving. If businesses rely too much on what already works, they do not invest in the innovations that could ultimately disrupt and improve their business. As it relates to innovation investing, the book helps to highlight how both winners and losers emerge from the evolution of industries. At Evolutionary Tree, we believe the ultimate winners are those who innovate and drive shifts from the old way of doing things to the new way of doing things.
As far as podcasts go, one of my favorites is How I Built This with Guy Raz. The podcast hosts founders of some of today's most successful companies and walks listeners through much of the history of the businesses, from an idea to success. It's truly fascinating to understand how these businesses evolve over time and to hear the perspectives of the brilliant founders who built them. Some of my favorite episodes include interviews with the founders of Lululemon, Slack, and Chipotle. Many of the founders interviewed are still leading these companies as CEOs. I believe there is power in having a founder-led business, as those businesses are often higher quality and more innovative. A passionate founder will not rest on his or her laurels, despite success, until their long-term vision for their business becomes a reality.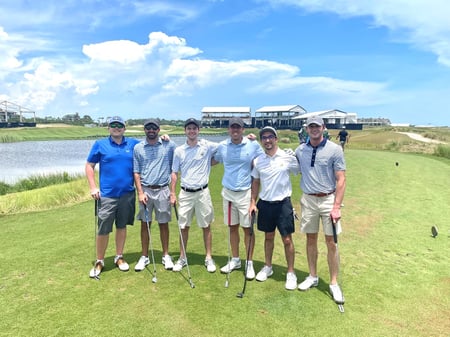 What do you enjoy doing when you are not working?
I first picked up golf clubs when I was six years old and haven't put them down since. I played competitively in high school and on the club team at the University of Alabama where, at one point, the team ranked first in the nation, but certainly no thanks to me. My career arguably peaked when I won the nine-hole club championship when I was 10. But who's counting?
I like to say golf is the most frustrating game you can play. However, all it takes is one good shot to keep you coming back. Arnold Palmer put it best when he said, "Golf is deceptively simple and endlessly complicated; it satisfies the soul and frustrates the intellect. It is at the same time rewarding and maddening – and it is without a doubt the greatest game mankind has ever invented."
Outside of golf, I'm trying to become a bit of a grill master and learning to cook. My cooking has evolved from inedible to mildly edible, so things are really looking up.
What is your favorite food? I'd have to go with pasta Bolognese. When I joined Tom on a work trip to Europe, we stopped in three cities in Italy. I had pasta Bolognese for dinner in every single one of them. Absurd, I know, but when in Rome…


To get to know more of the team behind the portfolio, click here.