When asked recently how he feels about investing in health care, Evolutionary Tree CIO and Portfolio Manager Thomas Ricketts described the sector as an area of new knowledge, insight and innovations that may be underappreciated by the market. With scientific breakthroughs and patents continuing their upward trend, he and the Evolutionary Tree team are using rigorous research to identify the companies they believe are developing life-changing innovations on the cusp of wide adoption. A summary of Mr. Ricketts' thoughts on health care innovators follows.
Mr. Ricketts: While our bottom-up, company-focused approach to identifying leading innovators involves multiple inputs and exhaustive research, one great proxy we use to identify sectors experiencing the biggest wave of innovation are patents. The table below shows patents registered through the U.S. Patent and Trademark Office over a 48-year period. Between 1964 to 2012, it illustrates the direction of innovation for key sectors of the economy, with technology and health care leading the way.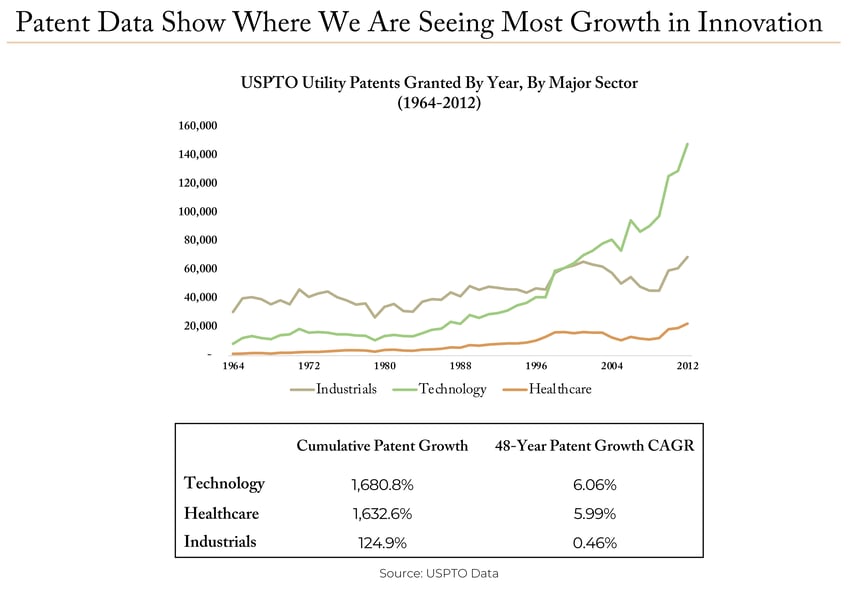 Innovations in technology have been well-researched and widely followed by most investors for quite some time. But health care is a major area of new knowledge and insight. In turn, we are seeing of a lot of new health care technology platforms or innovation platforms, many of which we believe are underappreciated by the market.
For example, while many of us have heard about scientific breakthroughs using small molecule drugs and monoclonal antibodies as treatments for cancer and other types of disease, there are new, lesser-known health care innovation platforms that are on the verge of going primetime. An example is RNA interference (RNAi), which allows researchers to develop disease treatments by shutting down specific genes. We are excited to see new drug approvals for that platform and we invest in innovative leaders in RNAi technologies.
There's a lot in the press about gene therapy and gene editing, which, after being considered science fiction for a long period of time, are beginning to demonstrate real efficacy in clinical laboratories and in real patients with different diseases.
This is the type of thing that feeds my optimism for health care over the next 10 to 20 years and convinces me that the sector is really going to break out. I think it would be appropriate to describe the next 20 years as the age of biology or the age of genomics. It's real. That doesn't mean every biotech is going to be successful, which is why, as an investor, it's important to be highly selective. This includes assessing potential risks for each prospective investment. At Evolutionary Tree, we don't want to own biotech companies that are dependent on just one product or one program. We want to own biotech leaders that have developed technology innovation platforms that can be applied across multiple diseases.
Consider Arrowhead Pharmaceuticals—a leader in RNAi technology. Arrowhead's platform allows it to modulate gene expression by targeting messenger RNA. The company has a deep pipeline, which means its success isn't tied to a single program. It has many other programs, which is enabling it to take multiple "shots on goal." We also like the company's strong balance sheet, which is another important factor when assessing risk.
We're doing a lot of fundamental research in this space. We look at clinical data. We attend medical conferences. We talk to doctors and experts. And we believe identifying companies with strong balance sheets, leading-edge platform technologies, and deep pipelines, reduces, if not eliminates, binary risk.
We are excited about innovation in health care and believe biotechnology in particular is an area with tremendous opportunity.
Interested in hearing more? We invite you to listen to a replay of Mr. Ricketts' Boutique Week call, a virtual event where he shared his unique perspective on health care innovation and other topics. Click on the graphic below to get started.