We know that investors are curious about our views on where we go from here after such a strong year in 2020. There is no doubt that COVID lockdowns accelerated the adoption of many innovations represented in the portfolio. We continue to see the same accelerating trends that we shared in our recent client letter discussing the "Great Digital Acceleration." The following text is an excerpt from our client letter and is a great reminder of how we view these dynamics, both now and in the future:
"Recessions often drive consumers and businesses to adopt innovations that offer cost reduction, convenience, or a better way of performing an activity. These innovations are often viewed as the "solutions" for the pressures they face. In short, tough times often accelerate the future.
Innovation-focused portfolios allow investors to potentially benefit from these dynamics. We see these dynamics during the current pandemic in accelerated adoption of e-commerce, cloud computing, cloud-based IT security, and digital games, among others. For these innovative digital products and services, the pandemic lockdown has accelerated adoption that might take 2-3 years and compressed it into 2-3 months for certain offerings (see illustration below).
For example, e-commerce globally has been growing about 20% in recent years, but data for May and June show that e-commerce sales are growing 70-80% year over year as consumers are wholesale shifting to e-commerce and shunning stores. We have seen similar data for adoption of streaming video, which has grown about 50% recently, as well as digital gaming apps. Likewise, businesses and larger enterprises are accelerating "digital transformation" projects, especially as a majority of employees have been forced to work from home, accessing cloud-based applications and collaboration platforms. This, in turn, has accelerated the shift to cloud-based IT security for ensuring robust endpoint and network security."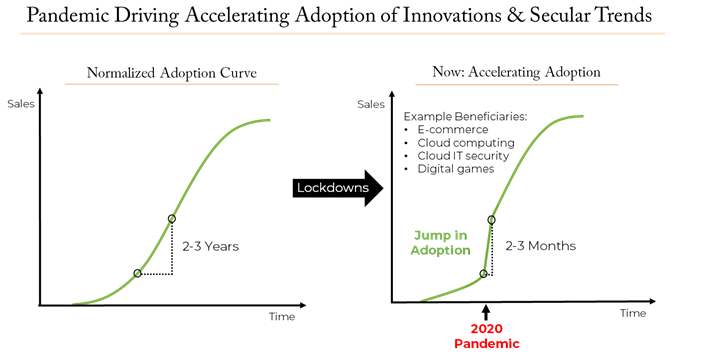 Supporting our view about the acceleration in these trends is a comment in a report by McKinsey Digital entitled "The COVID-19 Recovery Will Be Digital": "Indeed, recent data show that we have vaulted five years forward in consumer and business digital adoption in a matter of around eight weeks."
Whether we have vaulted forward a few years or five years, the question, of course, is whether these changes are temporary or permanent. Our view is that once consumers or businesses start using a new innovation, such as e-commerce or cloud computing—which offer better convenience, costs savings, and greater efficiency—they are highly unlikely to stop using it. In short, we are not going back in time and reversing these new behaviors just because of a vaccine and eventual re-opening.
The new behavior and direction is now being cemented. The Boston Consulting Group, in an article entitled "Sensing and Shaping the Post-COVID Era," also echoes this view: "Major disruptions can cause fundamental shifts in social attitudes and beliefs, which pave the way for new policies, ways of working, and consumer needs and behaviors, some of which persist in the long run...Pioneers will not only adapt to shifting needs; they will also proactively shape perceived needs and outcomes through innovation, education, and promotional activities." Our mission has always been to identify leading innovators at the forefront of the innovation frontier, and we believe companies owned in our clients' portfolios are the pioneers adapting and shaping the future across the economy.
In next week's blog, we will continue exploring this theme of whether innovative companies can still offer investment opportunities in the future despite their strong run during 2020. Specifically, we will be looking at e-commerce and cloud computing. If you are not already signed up to receive notifications when we release new insights on investable innovation, we invite you to fill out the form below.
[Note: If identifying emerging innovators is of interest to you, please listen to the replay of our recent conference call that took place on November 17, 2020 to hear President, CIO and Portfolio Manager Thomas Ricketts, CFA discuss this concept in greater depth. Click graphic below to access the replay].
The content of this call is presented for educational and informational purposes only. Forward-looking statements are not recommendations to buy or sell any security and reflect our own opinions and estimates. Investing in equity securities involves risk and principal loss is possible. Past performance does not guarantee future results.