In last week's blog post, The Power of Innovation to Drive Sustainable Growth and Returns, we shared evidence from various academic and consultant-driven studies supporting the notion that innovation drives sustainable growth and long-term returns. This week, we continue the conversation and provide examples of portfolio holdings we feel provide further evidence that big innovations can have a big impact on returns.
At a high level, innovations are new methods, ideas, or products. For investors, they are best defined as new products or services, or enabling technologies, that create significant value for users, such as new capabilities and/or lower costs. Innovations come in different sizes, based on impact. Successful innovations have big impact, a char­acteristic that we label big innovations. At Evolutionary Tree Capital Management, our objective is to search for quality inno­vators with big innovations that have profound impact on users and their industry. We define user impact as the magnitude of improvement of an innovative offering relative to existing offerings.
Using a framework we developed, we bucket innovations into three major types (as shown below): 1) Incremental innovations, 2) Significant innovations, and 3) Radical innovations. Incremental innovations comprise most of the innovations that companies develop, and while they are positive, their impact is small. They drive an "upgrade" from one version to another, but often simply get copied by competitors, conferring little in the way of competitive advantage. Significant and radical inno­vations, on the other hand, represent big innovations, in our view, because they drive large magnitudes of improvement for users and end up creating secular trends, or evolutionary shifts. Significant innovations drive a generational shift, while radical innovations are more disruptive, driving a paradigm shift based on a new architecture and value chain. Both evolutionary shifts drive, at a basic level, a shift from an "old way" of doing things to a "new, better way" over time.
Leading innovators who have developed radical and significant innovations are the primary focus of our research process, and we believe these big innovations provide two benefits: 1) They provide the growth engines to sustain revenue and profit growth over time, and 2) They create durable competitive advantage. Our investment team systematically searches for, and deeply analyzes, innovative businesses developing significant and radical innovations. In particular, we seek out secular innovators that have the capability to create a series of innovations over time that fuel secular trends. We believe this is the best way we can add value for clients over the long term.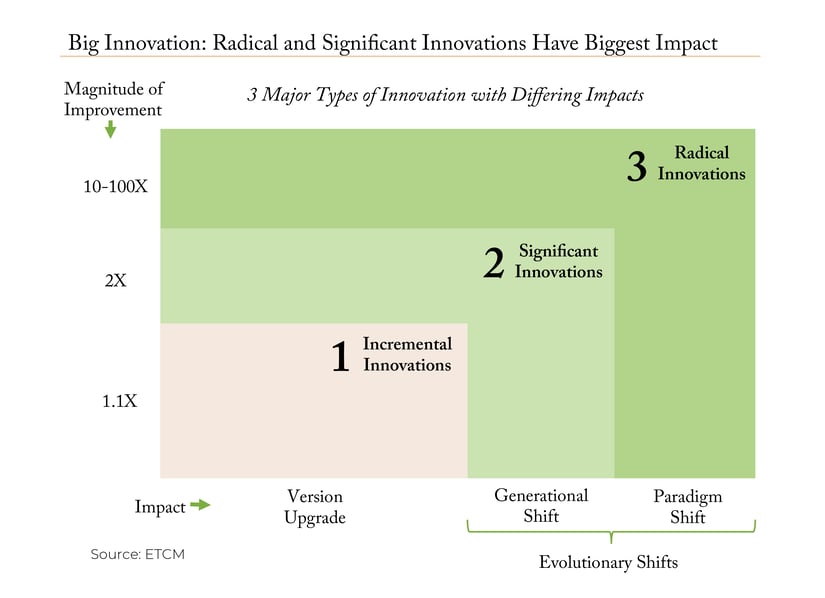 At a more granular level, the types of innovation that the investment team identifies and tracks include: technological innovation, product innovation, service or expe­rience innovation, process or cost innovation, marketing or brand innovation, and business model innovation, among others. The great innovators of our time combine multiple types of innovation to create value and competitive advantage. Our invest­ment team's objective is to identify the most important innovations, understand how these cause secular trends, and, ultimately, identify and own the leading innovators at the vanguard.
Examples of big innovations in client portfolios
We focus on owning innovators developing both significant and radical innovations. Let's briefly review some of the big innovations powering growth for ten portfolio holdings.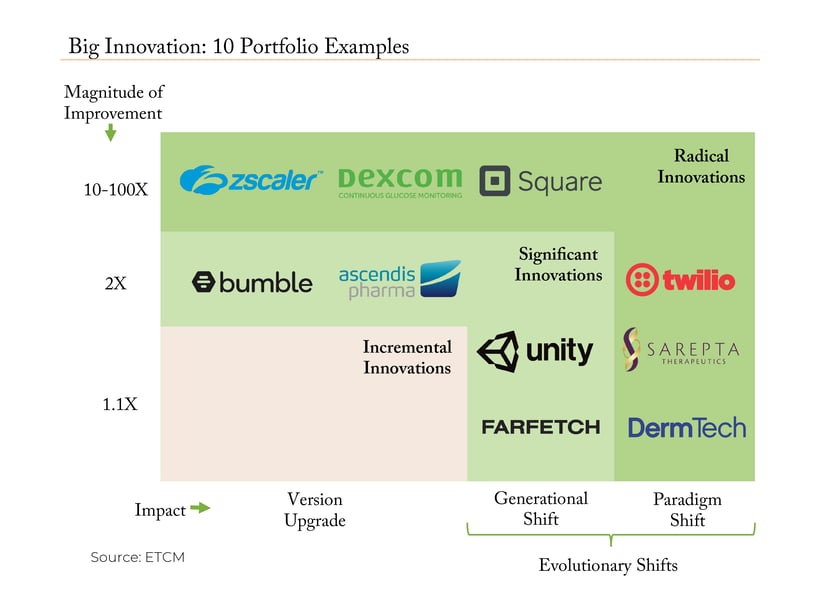 Ascendis, a biopharmaceutical company, developed an innovative technology platform called TransCon, a unique drug delivery technology that enables sustained release of parent drug molecules and provides superior profiles to existing treatments. For example, Ascendis recently gained FDA approval for Skytrofa, a significant innovation in the treatment of growth hormone deficiency. Older-generation treatments require patients (and their parents) to inject kids every day, a burden that leads to missed doses. Skytrofa, by contrast, creates a once-weekly injection that leads to better compliance. In fact, clinical data shows that Skytrofa may provide superior height outcomes given the improved compliance by patients and better distribution of the drug. Ascendis is using its proprietary technology innovation platform, TransCon, to develop other drugs and has a strong pipeline. Ascendis is a good example of a secular innovator.

Bumble, an online dating company, has built a strong brand and global following around its female-friendly dating app. Bumble benefits from the global evolutionary shift toward online dating, but is also the pioneer in innovating ways to create a safe, accountable, and healthy online dating experience for women, especially when compared to first-generation dating apps. The result is that Bumble is out-growing most current online dating apps and is taking its female-friendly approach to new geographies. Evidence of success? Bumble users are growing over 100% year over year in multiple European countries. Bumble is also innovating around "friend discovery" with its BFF brand which offers to help users find friends with shared interests, a market that could double its current addressable market. Bumble and BFF are significant innovations in the online dating space.

DermTech, a medical diagnostics company, is a leader in bringing genetic diagnostics to the practice of dermatology. The company developed the Smart Sticker technology that allows dermatologists to use an adhesive patch to painlessly collect RNA and DNA material to test for skin cancer, notably melanoma. Until now, the standard of care was for doctors to primarily rely on subjective visual assessment and biopsy (invasive surgical removal of skin). Now, with DermTech's melanoma Smart Sticker-based genetic test, doctors can test moles at risk for cancer noninvasively and follow up later with removal if they test positive for genetic markers. This genetic test is 17x more superior to visual assessment in confirming that a mole is negative for melanoma. For patients, it's a radical innovation when they can avoid unnecessary invasive procedures. DermTech is developing tests for other types of skin cancer.

Dexcom, a medical device company, is a pioneer in the development and innovation of the continuous glucose monitor (CGM), a wearable sensor technology that enables diabetics to monitor glucose levels. For diabetics, it is a radical innovation to be able to get rid of finger stick meters (which often need to be administered 4 times a day), and shift to a device they wear for up to two weeks with continuous monitoring (every 5 minutes). For those doing the math, that means a CGM theoretically can check glucose 288 times a day versus 4 for finger sticks. Clinical studies are demonstrating that CGM sensors enable tighter control of blood glucose, which leads to superior long-term outcomes for type 1 and type 2 diabetics.

Farfetch, a leader in luxury brand e-commerce, has built the world's leading e-marketplace for leading brands and boutiques. Farfetch combines multiple types of significant innovation, including technology, logistics, and business model innovation, to attract both brands and users to its site. For luxury brands, such as Prada, they have generally eschewed placing their brands on Amazon.com to protect their brand image. Farfetch, however, developed a unique "e-concession" model which allows brands to control how the products are presented and priced. Products are listed for sale without Farfetch needing to buy inventory, and allowing it to take a commission on sales. This compares with competing sites and department stores, which typically use a wholesale model where they buy and own inventory, which often severely limits the number of SKUs/products listed. Importantly, brands also make less through the wholesale channel, so they increasingly prefer the e-concession model of Farfetch's e-marketplace. Farfetch has attracted 28 of the top 30 luxury brands to its e-marketplace. As a result, Farfetch offers anywhere from 3-10x the number of luxury products versus a typical wholesale competitor or department store—a big attraction to consumers.

Sarepta, a biotechnology company focused on neuromuscular disease, has developed two primary technology innovation platforms for treating Duchenne's muscular dystrophy (DMD), in addition to other neurological and genetic diseases. It recently received its third FDA approval for an exon-skipping treatment for DMD patients with certain mutations. In addition, it reported compelling data on a next-generation exon-skipping platform that may have up to 10x the efficacy compared to its first-generation platform. Lastly, Sarepta is a leader in gene therapy with the leading program for DMD, as well as other clinical programs for neuromuscular diseases. Sarepta's innovation platforms support a deep and growing pipeline of treatments for a number of genetic diseases with few or no treatment options.

Square, a leader in fintech services, has built two thriving ecosystems—first with its payment processing platform for merchants, and, more recently, for consumers with its Square Cash app. Square originally innovated a simple-to-use payment processing platform for merchants to displace older cash registers. Now, it is taking on traditional banks (and branches) with its easy-to-use Cash app that offers a growing array of payment, financial, and banking services, including a debit card, direct deposit, savings account, and investing capabilities. Square's Cash app is a radical innovation because the unique app re-architects what it means to be a "bank," replacing it with an app. Ask bank executives if they think Square is a radical innovation. We believe the proposed acquisition of Afterpay, which would add a global leader in "buy now, pay later" payment services, will bolster Square's global position and enable building a "super app" for financial services. Square's innovations are creating digital financial hubs for businesses and consumers, on a global basis.

Twilio, a cloud computing company, has built the dominant communications platform-as-a-service (CPaaS). This global platform enables developers and enterprise customers to add various communications services to their applications or apps using application programming interfaces (APIs). These technology and business model innovations enable over 9 million developers to speed up application development of new communications services, such as SMS texts, voice, email, video, and chat, by dropping in APIs into their code, enabling agile development and global deployment. For example, Airbnb uses Twilio to send SMS messages confirming bookings for guests, and Uber uses Twilio for text alerts. Perhaps your next dentist appointment alert will be sent over Twilio's network. Twilio powers many apps.

Unity, a creative and gaming tools software company, offers an end-to-end development platform for creating 2D, 3D, virtual reality (VR)), and augmented reality (AR)) games and experiences. Unity is one of two dominant gaming engine platforms, having built an easy-to-use platform to develop games of all types. In fact, a major innovation was Unity's ability to enable gaming developers to write code for a game and have it work on many different gaming and computer devices. Furthermore, Unity's Operate Solutions platform enables innovative ways for developers to monetize games through its market-leading ad network, including in-app purchases (IAP). The result? Unity powers over half of the mobile games on a global basis. While we see Unity's gaming engine and monetization platforms as significant innovations, we also believe Unity has the potential to enable radical innovations in the field of virtual reality. The success of Oculus Quest 2 has shown that VR may (finally) be emerging for mainstream adoption.

Zscaler, a cybersecurity leader, developed the leading cloud-based internet access security solution for enterprise customers. Zscaler got its start creating a platform for secure web gateways, primarily for branch offices and remote workers. Over time, through the development of a series of innovations, Zscaler is now the leader in cloud-based network security with a full security stack-as-a-service. The massive growth in hacking and ransomware attacks has taught us that we can no longer assume that every user or session is an authorized one. We must now embrace what chief information security officers (CISOs) refer to as "Zero Trust," where we assume every user or access session is a threat until the user is authenticated as trusted. Zscaler has pioneered a number of innovations to enable Zero Trust, and its proxy-based, in-line inspection platform is considered industry-leading for this new cybersecurity architecture. With over 150 points of presence globally and thousands of customers, Zscaler handles more than 60 billion transactions per day. This level of scale is why the company is named Zscaler. Zscaler continues innovating, building a broad portfolio of cybersecurity offerings for clients.
Putting the power of big innovations to work for clients
At Evolutionary Tree, we build portfolios of leading businesses developing big innovations because we believe that—in the innovation-based economy in which we live today—this is the best way to add value over the long term. Given our preference for secular innovators, the businesses we own have a pipeline of innovations to sustain growth. If future innovations turn out to be significant or radical, they have the power to further sustain growth for many years.
Through our unique innovation-focused investment approach, we put the power of big innovation to work for you. To learn more about this approach, click here.