We are truly honored to receive not just one, but several awards for our two flagship innovation-focused portfolios: Beagle Leading Innovators and Humboldt Global Innovators. The awards are a result of our investment team's dedication to identifying and understanding attractive investment opportunities being created by innovations driving structural change across the global economy.
The awards for the Beagle Leading Innovators portfolio include:
#1 ranked strategy in the large cap growth universe based on Q2 2020 performance

#1 ranked strategy in the large cap growth universe based on one-year performance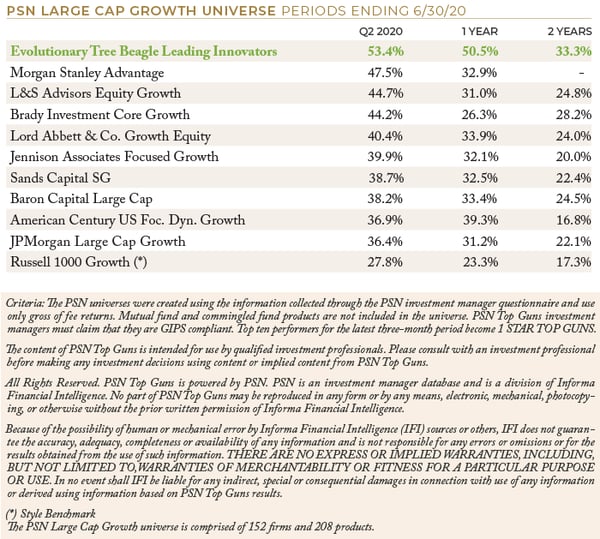 On the global equity front, the success of our Humboldt Global Innovators strategy validates the strength of our global research capability, which we believe every equity manager must possess in this fast-changing world economy. We are able to maximize our team's resources by focusing on clusters of innovation in select countries rather than analyzing all industries in every corner of the world.
The award for the Humboldt Global Innovators portfolio includes:
#4-Ranked strategy in the global equity universe of 647 products based on one-year performance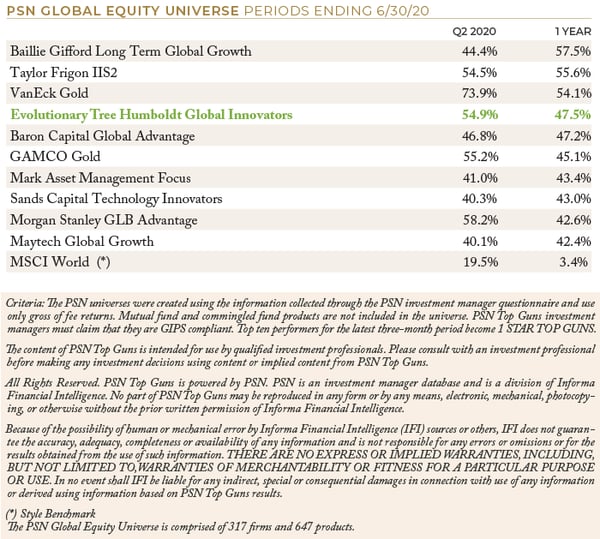 Receiving these awards during such a strong quarter for equities is especially rewarding for us considering it validated our belief that investing in innovative companies can, at times, add value in both up and down markets.
Indeed, this past June, we reflected on outperforming during the tumultuous first quarter, authoring a blog titled How Innovation-Focused Strategies May Provide Both Offense and Defense which provided some thoughts on how innovative businesses outperformed the broad market during the first quarter's selloff. During the second quarter's recovery, investors quickly re-embraced leading innovators after the period of economic stress, and our Beagle portfolios recovered much faster than both the Russell 1000 Growth and S&P 500 indices, as illustrated below: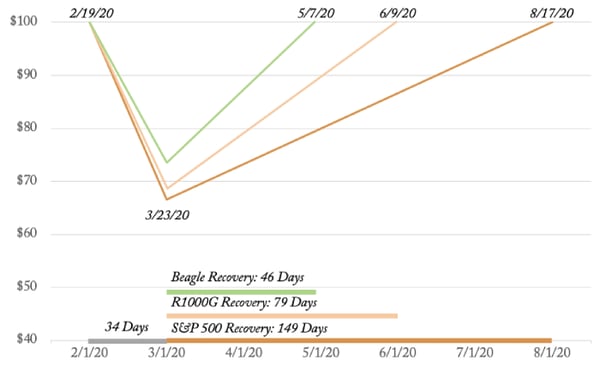 Disclaimer:
Criteria: The PSN universes were created using the information collected through the PSN investment manager questionnaire and use only gross of fee returns. Mutual fund and commingled fund products are not included in the universe. PSN Top Guns investment managers must claim that they are GIPS compliant. Top ten performers for the latest three-month period become 1 STAR TOP GUNS.
The content of PSN Top Guns is intended for use by qualified investment professionals. Please consult with an investment professional before making any investment decisions using content or implied content from PSN Top Guns.
All Rights Reserved. PSN Top Guns is powered by PSN. PSN is an investment manager database and is a division of Informa Financial Intelligence. No part of PSN Top Guns may be reproduced in any form or by any means, electronic, mechanical, photocopying, or otherwise without the prior written permission of Informa Financial Intelligence.
Because of the possibility of human or mechanical error by Informa Financial Intelligence (IFI) sources or others, IFI does not guarantee the accuracy, adequacy, completeness or availability of any information and is not responsible for any errors or omissions or for the results obtained from the use of such information. THERE ARE NO EXPRESS OR IMPLIED WARRANTIES, INCLUDING, BUT NOT LIMITED TO, WARRANTIES OF MERCHANTABILITY OR FITNESS FOR A PARTICULAR PURPOSE OR USE. In no event shall IFI be liable for any indirect, special or consequential damages in connection with use of any information or derived using information based on PSN Top Guns results.
(*) Style Benchmark
The PSN Large Cap Growth universe is comprised of 152 firms and 208 products